Posts for tag: tmj disorders
By Phillip J Wolf DDS
July 30, 2020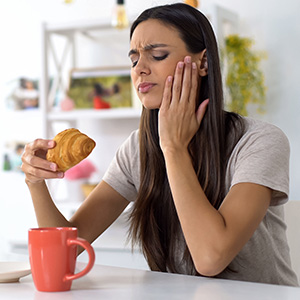 Eating is like breathing: We often do it without much thought. But if you suffer from chronic jaw pain, every bite can get your attention—and not in a good way. What's worse, in an effort to avoid the pain associated with a temporomandibular joint disorder (TMD) you might make less than nutritious food choices.
But there are ways to eat healthy without aggravating the symptoms of TMD—not just your choices of food, but also how you prepare and actually eat the food. Here are 4 tips that can help you manage eating with TMD.
Choose moist foods in sauces or gravy. A lot of chewing action is intended to mix saliva with tough or dry foods to make them easier to digest. But this extra jaw action can irritate the jaw joints and muscles and increase your discomfort. To help reduce your jaws' work load, choose foods with a high moisture content, or cook them in a sauce or gravy.
Peel foods with skin. Fresh fruits and vegetables are an excellent source of vitamins and minerals, but their tough outer skin or peel is often hard to chew. Although these parts may also contain nutrients, removing them allows you to gain most of the nutritional benefit of the food while making it easier to chew it.
Cut foods into bite-size pieces. A lot of discomfort with TMD occurs with having to open the jaws wide to accommodate large pieces of food. To minimize the amount of jaw opening, take time to cut all your food portions down into smaller pieces. Doing so can help you avoid unnecessary discomfort.
Practice deliberate eating. All of us can benefit from slower, more methodical eating, but it's especially helpful for someone with TMD. By chewing deliberately and slowly and doing your best to limit jaw opening, you can enhance your comfort level.
Eating often becomes an arduous task for someone with TMD that increases pain and stress. But practicing these tips can make your dining experience easier—and more enjoyable.
If you would like more information on managing TMD in everyday life, please contact us or schedule an appointment for a consultation. You can also learn more about this topic by reading the Dear Doctor magazine article "What to Eat When TMJ Pain Flares Up."
By Phillip J Wolf DDS
July 16, 2019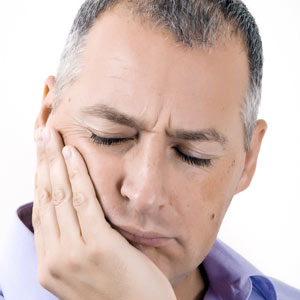 It's estimated that between 10 and 40 million adults in the U.S. suffer from chronic jaw pain and disability. Healthcare providers refer to it as temporomandibular joint disorder (TMJD), a group of conditions characterized by pain and limited function with the jaw joints, as well as related muscles and tissues.
People with TMJD often experience popping, clicking or grating sounds when they move their lower jaw. The more serious symptoms, however, are severe pain and limited movement of the jaw. The causes of TMJD haven't been fully substantiated, but it's believed to be influenced by a person's genetic background, their gender (most patients are women of childbearing age), their environment and behavioral habits. This uncertainty about the underlying causes has made it difficult to improve treatment strategies for the disorder.
One promising area of research, though, is suspected connections between TMJD and other health problems. In one survey of over 1,500 TMJD patients, nearly two-thirds indicated they had three or more other chronic conditions. Among the most frequently named were fibromyalgia, chronic fatigue syndrome, rheumatoid arthritis, and sleep disturbances.
We're not quite sure how or why TMJD might be linked to these other conditions, but further study is underway. Researchers hope any knowledge uncovered could lead to advances in our ability to diagnose, treat and prevent TMJD.
Until then, the more traditional treatment approach remains the best course of action: medication to relax muscles and relieve pain; thermal therapies using hot and cold compresses during flare-ups; and physical therapy. Switching to softer foods temporarily may also give jaw muscles a rest from over-activity. Although jaw surgery is an option, we should consider it a last resort after other therapies have proven altogether ineffective in relieving pain and restoring function.
If you suspect you have TMJD, please visit a medical doctor first. Other conditions could mimic the symptoms of the disorder and would need to be ruled out first. If the diagnosis is TMJD, you're not alone. You can receive information, support and updates on the latest research by visiting the TMJ Association at www.tmj.org.
If you would like more information on chronic jaw pain, please contact us or schedule an appointment for a consultation. You can also learn more about this topic by reading the Dear Doctor magazine article "Chronic Jaw Pain and Associated Conditions."