Posts for: April, 2022
By Phillip J Wolf DDS
April 20, 2022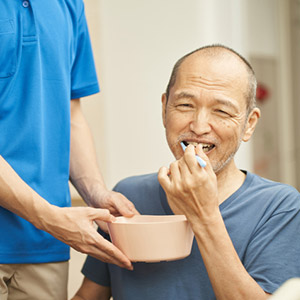 Most of us care for our teeth without much assistance, save from our dentist. But that can change as we get older. A senior adult sometimes needs the help of a family member or a close friend, even with the basics of personal oral care.
At the same time, an older adult's other pressing health needs can be so overwhelming for their caregiver that their oral health needs move to the back burner. But the condition of a person's teeth and gums is directly related to overall health and well-being, especially later in life—it deserves to be a high priority.
First and foremost, caregivers should focus on daily oral hygiene to prevent tooth decay or gum disease, the two most prevalent diseases capable of severely damaging teeth and gums. Dental plaque, a thin bacterial film accumulating on tooth surfaces, is the top cause for these diseases. Removing it daily helps lower the risk for either type of infection.
Older adults may begin to find it difficult to brush and floss on a daily basis. Caregivers can help by adapting the tools of the job to their situation. Adults with diminished hand dexterity might be better served with a power or large-handled toothbrush, or switching to a water flosser for flossing. If they're cognitively challenged, it might also be necessary to perform these tasks for them.
Because of medications or other oral issues, older adults have a higher propensity for chronic dry mouth. Saliva neutralizes acid and supplies antibodies to fight infection, so not having enough can make the mouth environment more conducive to harmful bacteria. Caregivers should interact with their loved one's doctor to help reduce dry mouth through alternative medications or products to improve saliva flow.
An older person may also have dental work like crowns, bridges or dentures that protect their oral health and improve dental function. Be sure they're seeing a dentist to regularly check their dental work and make adjustments or repairs as necessary.
Good oral health is important in every stage of life, but particularly in our later years. Watching out for an older adult's teeth and gums can make a big difference in their overall quality of life.
If you would like more information on dental care for senior adults, please contact us or schedule an appointment for a consultation. You can also learn more about this topic by reading the Dear Doctor magazine article "Aging & Dental Health."
By Phillip J Wolf DDS
April 10, 2022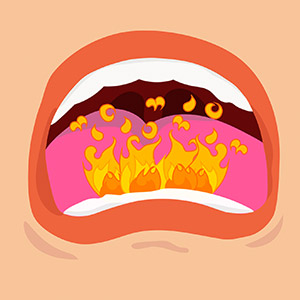 It's common for people to sip freshly brewed coffee or take a bite of a just-from-the-oven casserole and immediately regret it—the searing heat can leave the tongue and mouth scalded and tingling with pain.
Imagine, though, having the same scalding sensation, but for no apparent reason. It's not necessarily your mind playing tricks with you, but an actual medical condition called burning mouth syndrome (BMS). Besides scalding, you might also feel mouth sensations like extreme dryness, tingling or numbness.
If encountering something hot isn't the cause of BMS, what is then? That's often hard to nail down, although the condition has been linked to diabetes, nutritional deficiencies, acid reflux or even psychological issues. Because it's most common in women around menopause, changes in hormones may also play a role.
If you're experiencing symptoms related to BMS, it might require a process of elimination to identify a probable cause. To help with this, see your dentist for a full examination, who may then be able to help you narrow down the possibilities. They may also refer you to an oral pathologist, a dentist who specializes in mouth diseases, to delve further into your case.
In the meantime, there are things you can do to help ease your discomfort.
Avoid items that cause dry mouth. These include smoking, drinking alcohol or coffee, or eating spicy foods. It might also be helpful to keep a food diary to help you determine the effect of certain foods.
Drink more water. Keeping your mouth moist can also help ease dryness. You might also try using a product that stimulates saliva production.
Switch toothpastes. Many toothpastes contain a foaming agent called sodium lauryl sulfate that can irritate the skin inside the mouth. Changing to a toothpaste without this ingredient might offer relief.
Reduce stress. Chronic stress can irritate many conditions including BMS. Seek avenues and support that promote relaxation and ease stress levels.
Solving the mystery of BMS could be a long road. But between your dentist and physician, as well as making a few lifestyle changes, you may be able to find significant relief from this uncomfortable condition.
If you would like more information on burning mouth syndrome, please contact us or schedule an appointment for a consultation. You can also learn more about this topic by reading the Dear Doctor magazine article "Burning Mouth Syndrome: A Painful Puzzle."